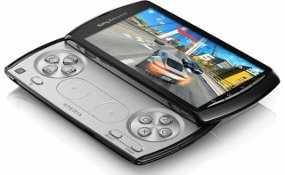 Sony Ericsson Xperia Play smartphone yang ditujukan khusus untuk main game
. Sony Ericsson Xperia Play adalah smartphone yang didekasikan khusus untuk ngegame. Tidak hanya soal hardware, ekosistem konten game pun diklaim digarap dengan serius oleh Sony Ericsson.
Selain 7 game gratis sudah tersedia di Xperia Play, pengguna juga dapat mengunduh berbagai macam game yang dioptimalkan untuk handset tersebut. Diklaim, ratusan game dioptimalisasi untuk Xperia Play dan tersedia di Android Market.
"Semua game dapat diunduh melalui Xperia Play launcher, aplikasi yang dapat diaktifkan dengan membuka gamepad," ucap Djunaidi Satrio, Head of Marketing Sony Ericsson Indonesia pada peluncuran Xperia Play di Jakarta, Jumat sore (25/7/2011).
Xperia Play Launcher ini merekomendasikan game dan memungkinkan konsumen mencari judul-judul game yang dioptimalkan untuk Xperia Play. Beberapa game tersedia gratis namun ada pula yang berbayar. Untuk game berbayar transaksi dapat dilakukan dengan kartu kredit.
Sony Ericsson bekerja sama dengan berbagai developer game. Di antaranya Gameloft yang sudah menyediakan 15 judul game untuk Xperia Play.
Judul game yang sudah terdapat di dalam ponsel adalah FIFA 10, Madden 11, The Sims 3, Star Battalion, Bruce Lee: Dragon Warrior, Crash Bandicoot dan Asphalt 6. Game-game lain yang bisa diunduh di antaranya Guns n Glory, Assassin's Creed Altair's Chronicles sampai Splinter Cell.